Downloading Files
Frequently Asked Questions



When you try to download a file using Microsoft's Internet Explorer, you are frequently prompted with a window (such as the one below) asking you what you would like to do with the file you are attempting to download...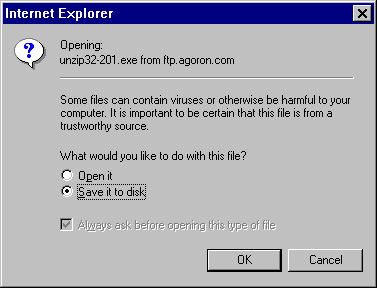 However, if you are not prompted for a location to save the file that you are downloading then this is because at some point in the past you disabled the "Always ask before opening this type of file" function (see above). If you would like to restore this window, and thereby be prompted what to do with a downloaded file, then follow these instructions...

1) Double-click My Computer.

2) On the View menu, click Folder Options.

3) On the File Types tab, click the appropriate file type in the Registered file types list. The most popular file type that you will be looking for has a file association with ZIP file extensions. The ZIP file extension has no single default program association since Microsoft does not ship an unzip utility with Windows. Once you install an unzip utility, then a file assocation will be created. In the "Folder Options" illustration below, the ZIP file extension has been associated with a program called The Unzip Wizard (i.e., UNZIPWIZ). The Unzip Wizard is one of the easiest unzip utilities available, and we recommend you evaluate a copy at: http://www.pc-shareware.com/unzipwiz.htm if you plan on downloading ZIP files.
4) Highlight the file type you wish to modify, then click the Edit button.

5) Click the Confirm open after download check box to select it (see below).






6) Click the Close button, and then click the OK button. What you have done by these steps is to configure Internet Explorer to prompt you where to place the file when you attempt to download a ZIP file.

At this point you are ready to try downloading again. Click here to continue with this download tutorial..
---

Looking for a good source of "try before you buy" software to download? Then click here!
Copyright 1998-2000 by PC Shareware, Inc. - All rights reserved